Many stylistic influences overlap within Caribbean art, so its history often requires social and cultural references to contextualise its diversity. The mainly Spanish, French and English speaking island populations colonised by Europeans from the 16th century still reflect the cultural mix that the Atlantic trade in sugar, spice and slaves provoked. Most Caribbean's of African descent have some Asian, Middle Eastern or European heritage. Caribbean art of this century is similarly hybrid.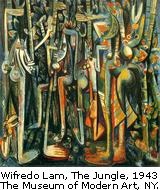 Afro-Caribbean art can be called modern because, aside from the work of European itinerant artists, there is sparse evidence of local art production in any of the islands prior to the 20th century. With the exception of Haiti, the schizophrenic nature of colonial societies meant that art was created by European visitors concerned with exhibiting their works back in their home countries. Up to 1900, they largely ignored regional institutions and ideas about Creole identity.
Afro-Caribbeans, however, were more inclined to look to these institutions and were more comfortable with their Caribbean identity. But plantation economies could ill afford art in the leisurely sense, so their early forms of expression were manifested in performance art such as carnival. Afro-Caribbeans have only recently seen what they do as art. Caribbean populations took long to recognise the value of black creativity that had been promoted by Europeans in Paris, New York and London after 1914.
By 1920, the Caribbean became a vogue muse to Europe, as did Africa and other so-called "primitive" cultures. It attracted artists such as Edna Manley in Jamaica, Richmond Barthe there and in Haiti, and Wifredo Lam in Cuba; all keen to capture aspects of Paul Guaguin's artistic paradise. Like him, they sought identity in distant lands where they believed they had some cultural connection. The art of these progressive liberals provoked a racial awareness and prefigured the use of the black physiognomy in painting and sculpture. Their interests coincided with shifts in political power from colonial administrations to a growing local middle class attracted by cultural nationalist sentiments, Pan-Africanism, and the "new negro" philosophies of the Harlem Renaissance that swept through American cities in the 1930's. By the 1940's, the perception of the Caribbean changed from exotica to that of an accommodating cultural hub for America and Europe, where both black ideas about Africa and European ideas of the "primitive" could safely interact.
Early Caribbean art was an uneasy mix of styles. Loosening colonial ties and a more rooted Creole community's desire for autonomy, encouraged local themes. Some artists bowed to the rigours of traditional figure and landscape painting. Others flirted with relatively modern impressionist and post-impressionist styles for painting, or art deco forms for sculpture. Still others explored spiritual concerns inherited from African art. Often, all these styles converged in a single art work. The result was a cultural expression that was tense, inelegant, technically incompatible but nevertheless challenging.
Apart from this mainstream trend towards a local aesthetic, there was a parallel resurgence of creativity by artisans and craftsmen, normally of peasant or lower class backgrounds. The work of these self-taught artists relates more closely to African art that is traditional and spiritual and often reliant on an inner vision of reality. It is characterised by a tendency to overall patterning, a varied and integrated use of colour, flatness of forms reminiscent of textile design and the inclusion of written narratives. In Caribbean sculpture, African approaches are also visible in the techniques for selecting, honing, dying and polishing woods. The function of such art is similar. In Africa, carvings are perceived as objects of power. In the Caribbean, their medicinal and spiritual meanings are heavily disguised in the unorthodox Afro-Christian religions of Obeah, Santeria, Rastafarianism and Voodoo.
Self-taught artist movements in all the islands share affinities. Their creativity was clearly suppressed during the colonial period. European "discovery" and patronage (as with Dewitt Peters in Haiti) was a big factor. Significant international success and the attendant problems of kitsch commercialism (especially where the art market is tourist based) compromised their integrity.
Few regional institutions have understood how to successfully show this type of art without exploiting the original vision of these artists. Integrating their art into mainstream gallery exhibitions has also been tricky. Local audiences are reluctant to accept these predominantly black and mystical expressions as valuable reflections of their own heritage. Informed art criticism is still needed to educate Caribbean audiences and offer alternatives to their traditionally European and conservative tastes.
The protests and upheavals in the region in the 1960s and 1970s fractured the cohesive nationalist sentiments reflected in Caribbean art of earlier decades. The Cuban Revolution (and subsequent United States embargo), independence for most of the islands, the Black Power movement's influence and cruel dictatorships incited political instability. The turbulence registered in two diametrically opposed art forms. Many artists exposed to art training abroad and disillusioned with art movements in their small islands, abandoned a local vernacular for a more international modern style. To counter their western training, others delved even more deeply into their roots for African imagery. Their work made conscious statements about racial and class awareness but was often disguised in political allegory intended to challenge western styles and values. In the face of American cultural hegemony, this approach has become a platform for contemporary Afro-Caribbean art.
In the 1980s and 1990s, Afro-Caribbean art depicts post- modern preoccupations with cultural diversity and identity and has consequently attracted attention outside the region. Despite its open-ended and eclectic nature, however, such art is still married to the notion of ancestral heritage and regional identity. At recent biennials in Santa Domingo and Havana, the exhibits displayed a self-conscious and satirical embracing of cultural memory styled in unconventional settings, installations and off-the-wall works that straddle African traditions and European post-modern ideas of "primitive" creativity. Such imagery shows that even now Afro-Caribbean artists are still grappling with the region's complex cultural history. It is their engagement with the past that makes art in this region so compelling.
Group Image Sources
673. Edna Manley, Tomorrow, 1938
Miss Vera Dantra, Wales
Reproduced in David Boxer Edna Manley: Sculptor Kingston: The National Gallery of Jamaica and The Edna Manley Foundation, 1990
674. Wifredo Lam, The Jungle, 1943
The Museum of Modern Art, New York.
Photograph copyright 1995 The Museum of Modern Art
675. LeRoy Clarke, In the Maze there is a single line to my soul, 1986
Artists collection
Reproduced in exhib. cat. Trinidad and Tobago: Contemporary Painting, October Gallery, London, 1992
676. Everald Brown, Ethiopian Apple, 1970
National Gallery of Jamaica, Kingston
Reproduced in SITES Jamaican Art 1922-1982, Washington: Smithsonian Institution, 1993
677. Edouard Duval -Carrie, La Foret Sacree, 1992
Artists collection
Reproduced in Exhibition Catalogue Edouard Duval Carrie, Marco, Museo de Arte Contemporaneo de Monterrey, Monterrey, N.L., Mexico, October 1992
Group Picture Labels
673. Edna Manley (1900-1987)
Tomorrow (1938)
Wood (Mahogany),
H.approx. 24"
674. Wifredo Lam (1918-1982)
The Jungle (1943)
Gouache on paper mounted on canvas
7' 10 ¼" x 7' 6 ½" (239.4 x 229.4 cm.)
675. Leroy Clarke (1938)
In the maze, there is a single line to my soul 1986
Oil on canvas
51 ½" x 61 ½"
676. Everald Brown (1917- )
Ethiopian Apple (1970)
Oil on canvas
25 x 37 ½"
677. Edouard Duval -Carrie (1954-
La Foret Sacree 1992
Oil Tryitych and 16 resin sculptures
180 x 420 cm
Group Image Text
The Spirit of Afro-Caribbean Art
These five paintings were painted at different times in various parts of the region, but common features such as their modernist primitivising techniques, African imagery and intuitive approaches define them as Afro-Caribbean. They share a symbolism related to ancestral heritage and utopian aspirations. Informed by the syncretic religions of the Caribbean such as Santeria ( The Jungle), Obeah (In the maze, there is a single line to my soul) Rastafarianism (Ethiopian Apple) and Voodoo (The Foret Sacree), they are transformative, agitating for liberation, rebirth and change in the condition of the Caribbean man.
Edna Manley's Tomorrow 1938, with its upward thrust and hands raised in heavenly praise, opens the way for a future for the Jamaican "new negro" recently politically aroused by labour struggles of that year. Tomorrow's vertical schema separates it from the works of the four other artists. Whereas the strong vertical forms of Manley's sculpture reinforce a conventional Christian reading of heaven and earth, the others reflect a cosmic world where forms are overlapping, interrelated and non-linear.
Although modernist in feel, Wifredo Lam's Jungle owes a greater debt to the Afro-Cuban beliefs in Santeria. Consequently, Jungle has much in common with the more intuitive spiritual expressions of Clarke, Brown and Duval-Carrie. Colour, overall patterning and an edgeless unified network of images reinforce the sense of integration in their work. Aside from visual similarities, a conceptual thread runs through all these works that is an underlying spiritualism and denial of western perceptions of the world.
Glossary/Style Sheet
Edouard Duval-Carrie - hyphenated on the last e.
Richmond Barthe - hyphenated on the last e.
Creole - Born or assimilated into the Caribbean region.
Obeah - Considered a negative spiritual practice retained from African rituals used as a punishment or other forms of retaliation.
Rastafarianism - A spiritual belief originating in Jamaica that has spread through the region and promotes black repatriation to Africa considered a spiritual Eden.
Santeria - An African Cuban religion derived from Yoruba beliefs and rituals.
Voodoo, Vodun, Voudoun - The religion of the majority of the Haitian people that combines West African and European cultural practices. Certain ritual practices are believed to effect good and bad outcomes.
Brief Biography: Dr. Petrine Archer-Straw (1956 - )
Dr. Petrine Archer-Straw is a Jamaican lecturer and curator who works between the Caribbean and London. She has taught at the Courtauld Institute of Art since 1994. She has curated a number of exhibitions for both Caribbean and British audiences including:
Home and Away : Seven (7) Jamaican Artists, October Gallery, London, 1994
New World Imagery: Contemporary Jamaican Art, National Touring Exhibitions Arnolfini, Bristol, National Gallery of Jamaica and touring, 1995-6
Photos and Phantasm: The Photographs of Harry Johnston, British Council, 1998
She is the author of Jamaican Art, Kingston Publishers, Kingston, 1990 and is currently writing Negrophilia: The Darker Side of Paris' Modernity to be published by Thames and Hudson in 1999.
Further Reading:
Petrine Archer-Straw and Kim Robinson Jamaican Art: An Overview, with a focus on Fifty Artists Kingston: Kingston Publishers, 1990
David Boxer in SITES Jamaican Art 1922-1982 Washington: Smithsonian Institution, 1993
David Boxer Edna Manley: Sculptor Kingston: The National Gallery of Jamaica and The Edna Manley Foundation, 1990
Luis Camnitzer New Art of Cuba Austin: University of Texas, 1994
Michel Philippe Lerebours Haiti et ses Pientres de 1804 a 1980 Port au Prince, Bibliotheque National d'Haiti, 1989
Samella S. Lewis Caribbean Visions : Contemporary Painting and Sculpture Alexandria Virginia: Art Services International 1995
Geoffrey MacLean "Trinidad and Tobago: Contemporary Painting", in exhib. cat., Trinidad and Tobago: Contemporary Painting, October Gallery, London, 1992
Charles Merewether "Banality and Tragedy: A History of the Present in Haiti", in exhib cat Edouard Duval Carrie, Marco, Museo de Arte Contemporaneo de Monterrey, Monterrey, N.L., Mexico, October 1992
Charles Merewether and Geraldo Mosquera Made in Havana: Contemporary Art from Cuba exhib. cat Sydney: Art Gallery of New South Wales, 1988
Simon Njami et al "Caribbean Art and Literature" Revue Noire Paris, Vol. 2 June-July August 1993
Simon Njami et al "Caribbean Art and Literature" Revue Noire Paris, Vol. 6 September-October November 1993
John Nunley & Judith Bettelheim, eds., Caribbean Festival of Arts : Each and every bit of difference Seattle and London: University of Washington Press, 1988
Edward J. Sullivan Latin American Art in the Twentieth Century London: Phaidon, 1996
Emma Wallace et al, exhib. cat Caribbean Art Now London: Commonwealth Institute August-September 1986