Database of Contemporary Caribbean Artists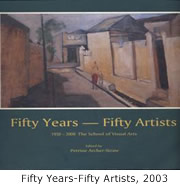 Perhaps as a result of my successes as consultant editor/curator for the School of Visual Arts Fifty Years-Fifty Artists catalogue and exhibition, in 2004 I was asked to oversee the development of an on-line library and a digital Caribbean Archive to be the largest repository of images on Caribbean art in the region. This project was funded by the Jamaican government's Culture, Health, Arts, Sports and Education (CHASE) Fund and the archive is an extensive resource not only for Edna Manley College students, but for students of art internationally. Prompted by the lack of, and growing need for, documentation and reference material on contemporary Caribbean art history and criticism, the plan was to establish a digital database initially focusing on the work and biographies of fifty contemporary Jamaican artists, and documentation of five of the nations most important art collections, including that of the National Gallery of Jamaica, School of Visual Arts Collection, The Wallace Campbell Collection, The Vivian Virtue Collection and the David Boxer Collection.
I was directly responsible for selecting artists, preparing digital CVs and essays on their work, researching and itemising collections and images, and liaison with the web developers responsible for building the site. Some of this material can currently be viewed on this site (see: Caribbean Archive A-Z) since the EMC archive is temporarily off-line. The archive aims to disseminate information about art and artists in the region while providing a virtual framework for them to network and display their work. It is an important research tool that will prove useful to art critics, art historians and other art specialists throughout the world. In addition to its historical information, dating artists as far back as the the turn of the 20th century, there is also an emphasis on including and documenting contemporary artists who will be increasingly added to the database once the initial infra structure is in place. The database is perceived as a living archive that can showcase work as well as serve the needs of all islands across the region.