John Dunkley "Jerboa, 1939"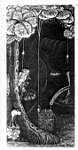 This painting is named after the small rodent that haunts its dark caverns and recesses. It is typical of John Dunkley's style during the 1930s. Rosette-like forms, lopped off tree trunks, spiders webs and the winding road draws the viewer into Dunkley's sombre nocturnal world.
The painting's overriding sense of solitude and gloom is reinforced with the monochromatic use of black and white pigment, applied in varying degrees, sometimes to achieve a heavy encrustation of paint at other times to refine and define a flat surface. There is nothing spontaneous about this work. Its design is considered, balanced and well-ordered, underscored by Dunkley's meditative application of paint. Although its content might be associated with a child's fairy story, Jerboa is by no straightforward narrative. Instead, the viewer is forced to interpret the strange images and symbols that push beyond the realm of reality into a world of fantasy. full stroy
Carl Abrahams' "The Last Supper"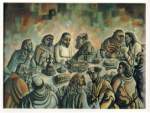 As we view the vast body of work created by Carl Abrahams and, in particular, the masterpiece of the National Gallery's collection, "The Last Supper" painted originally in 1955, it becomes apparent that here is an artist inspired by religious conviction and by his careful reading of Old and New Testament narratives.
"The Last Supper", painted in 1955, although the first of three renditions of this time honoured event epitomises the life work of this artist Carl Abrahams. For in this work we see the coming together of two facets of Abrahams' abilities - the facility to paint and the facility to interpret and speak to his audience in a visual form which even the layman can understand. full story
Karl Parboosingh's "Jamaican Interlude, 1958"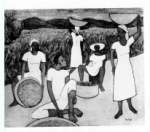 In this month's lecture we discuss Karl Parboosingh's "Jamaican Interlude". This work, painted in 1958, compared to others of its decade for all its deceptive simplicity, represents a breakthrough in vision and composition by an artist, who, in his lifetime, brought fresh and original interpretations to the painting of the Jamaican genre scene.
The work is aptly titled "Jamaican Interlude" since, in it we see that quiet pause between two acts, as five figures obviously wait at the roadside , maybe for a country bus to carry them to the weekly drama and hustle and bustle of Saturday market. The five figures comprise four females and a youth, all depicted in the same white garb. They are placed against the backdrop of the Jamaican landscape, a blue, cloud-filled sky, lush vegetation, the hint of a cane crop, in the stillness of glaring sunlight, waiting with their produce-laden bankras. full story
Kapo's  "Revivalists going to Heaven, 1968"
In this month's lecture we focus on the painting "Revivalisists going to Heaven" created in 1986 by Jamaica's foremost intuitive and self-taught artist Malica Reynolds "Kapo" but in focussing on this masterpiece from the National Collection, let us also focus on ourselves and try to understand the role that we as viewers play in contributing to how a work is perceived and received and let us attempt to relinquish those preconceived notions and misconceptions which we all too casually rely on in our daily existence. let us objectively explore Kapo's world, the world of the artist and of the revivalist leader with its African rhythms and spiritual awakenings. full story
Hope Brooks' "Four Pomegranates"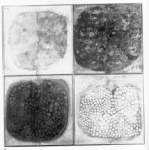 Hope Brooks is an artist in search of the essence of life, this search is so exhaustive and painstaking that it has taken her through many stages in her art, both conceptually and stylistically. Her surfaces and personal statements which reflects, however subtly this constant pursuit of perfection within the organic world. But this search is not an urgent one, neither is it restricted to the canvas alone, in this instance the artist and work are in the process of becoming, they are moving towards oneness. In order to begin to understand this artist's works, one has to fully grasp this artist's concept of time, one must put aside the Western self-indulgent voice of instant gratification and one must simply come to terms with the process of waiting. full story
Christopher Gonzalez's "Bob Marley Monument"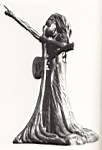 In this month's lecture presentation we examine the Bob Marley Monument by Christopher Gonzalez. Although, technically, there is a certain amount of ambiguity concerning formal ownership of this work, since May 1983 this monument has been on display at the National Gallery Collection. Certainly, it can be regarded as a masterpiece work, embodying a symbolism which has provoked much controversy and has made this piece one of the most famous artworks in Jamaican art history. (Watch the video)
Commissioned in 1981 by the Government of Jamaica, this work was created to honour the late reggae musician Bob Marley, and was originally intended for "Celebrity Park" - a newly created shrine for Jamaicans who had achieved international status and who had lived their lives in a manner which brought pride and fame to Jamaica. full story
Albert Huie's "Noon"
In this final lecture in the series, 'Masterpieces From the National Collection', we look at Albert Huie's "Noon" painted in 1943.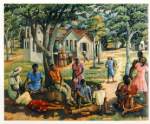 It is appropriate that we conclude with a work which embodies the unfolding narrative of Jamaican painting and communicates the spirit of 1938, the raising of the blackman's consciousness and a greater participation by the blackman in arts.
"Noon" is a truly Jamaican depiction by an artist who has had a life-long passion for his country and people. Despite the many different influences that Jamaican artists would experience "Noon" represents the essence of Jamaican painting before the artistic Diaspora. In this respect our appraisal of "Noon" today represents a coming home. full stroy