Excerpt from Lecture No. 5
Delivered by Petrine Archer-Straw - 5th February, 1986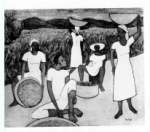 In this article we discuss Karl Parboosingh's "Jamaican Interlude". For all its deceptive simplicity, this work painted in 1958, compared to others of its decade represents a breakthrough in vision and composition by an artist who in his lifetime, brought fresh and original interpretations to the painting of the Jamaican genre scene.
The work is aptly titled "Jamaican Interlude" since, in it we see that quiet pause between two acts, as five figures obviously wait at the roadside , maybe for a country bus to carry them to the weekly drama and hustle and bustle of Saturday market. The five figures comprise four females and a youth, all depicted in the same white garb. They are placed against the backdrop of the Jamaican landscape, a blue, cloud-filled sky, lush vegetation, the hint of a cane crop, in the stillness of glaring sunlight, waiting with their produce-laden bankras.
The execution of this work appears to be simplicity itself, but careful viewing of this work reveals that this painting represents the work of an artist who has full control of his media and mastery of his skills. For the most part, the painting is executed in a flat, two dimension design like form;- line is used sparingly, clean and bold to define the five figures. Yet, even though its use is minimalised in the few instances there line trespasses onto their white uniformed dress, it efficiently describes every twist, angle and contour necessary to reveal Parboosingh's understanding of the human form. Colour is employed in a similar manner and, perhaps, with even greater efficiency. The stereotypical blue sky and green foliage are documented with surety, while a standard mixture of a tanned-brown is used uniformly on all give figures to compliment their white dress and headties.
But consider the use of the peachy-pink tone for the roadside where they wait, and one begins to understand something of the magic of Parboosingh's use of colour. Few artists would have confidence to use such unconventional colour within a composition of this nature, yet it is applied again so uniformly and so accurately balanced against the green foliage that it barely strikes the eye at all. The surface for the most is flat, but in isolated areas. Parboosingh does employ a limited amount of texture, created with pigment and despite the superficial, even tone of his top surface, close examination of the work reveals much underpainting. In fact, one might even be tempted to consider that another painting lies beneath the one revealed; this would not be an unrealistic consideration, since painting one work over another was not beyond this restless and impatient artist.
Although Parboosingh, through his paintings reveals a rare and gifted skill as a painter, a perusal of his background will reveal that whatever skill Parboosingh was born with they were enhanced during his lifetime by a solid training and exposure to art during his younger years and the rear opportunity (at least, for Jamaican painters) to work alongside some of the masters of the international modern art movement in such cities as Paris, New York and Mexico.
Born in 1923 in Hopewell, St. Mary, to Mr. and Mrs. Vivien Coy, Parboosingh was originally baptized Karl Coy. He was educated as a teenager at Calabar and Wolmer's Boy's School. It is possible that he inherited some of his artist's skills and eye for design from his mother Gladys Coy who was a dress designer.
In the early 1940s, Parboosingh left Jamaica to go to live in New York where his mother had established a business. These were the war years and Parboosingh, as a young man, joined the forces and saw active service in torn world war Europe. It was on his return to New York, after the second world war, that Parboosingh was to begin his career as an artist - in earnest, enrolling at the New York Arts Students League.
But Parboosingh was a restless spirit, he was anxious to experience more of the art world. Greenwich Village in New York could not hold him altogether and he set off for Paris. During the next few years, Parboosingh would travel extensively to the main art centres of the world. In Paris, he studied at the Ecole de Beaux de Paris and in the atelier of one of the world's famous modern painters, Ferninand Leger. He is further said to have studied with the expressionist, George Grosz, French painter and stained-glass designer, George Rouault at the centre d'art Paris, and in Mexico - with Alfaro Siqueiros.