Before coming to Cornell, I was best known for my scholarship in what might first appear to be two distinct fields; my work as a modern art historian specializing in studies about black culture and Paris in the 1920s, and my curatorial work and research in the Caribbean.  Increasingly, I  see how these two research areas converge, especially within the realm of post-colonial studies.
Negrophilia, which was the subject of my thesis later published as a book of the same name by Thames & Hudson explores the relationship between avant-garde artists  and black culture in 1920's Paris. The Parisian avant-garde adopted negrophilia and its taboos to enhance their outsider status. Their flirtation with aspects of African-American popular forms such as jazz, l'art negre, Josephine Baker etc, was a way to rekindle their own primitive states. Black culture facilitated their regression to the primitive within. An important aspect of my exploration of negrophilia, was my discourse on the primitive that argues for an inversion of current thinking to more usefully emphasis the process of 'primitivization'.
This understanding of how black people have been framed historically by a 'primitivizing' colonial discourse has made an important contribution to post-modern debates about 'the other'. The term 'negrophilia' introduced by Paris's vanguard but revived by me has come back into common parlance as a result of my book and is regularly cited in contemporary  scholarly texts and university tutorial models.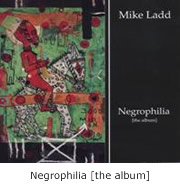 The term 'negrophilia' has also been recently popularized with the release of a music CD Negrophilia [the album] by Michael Ladd who, paying homage to my book has created a number of original contemporary jazz compositions that 'dismantle, transform, replant and play with the current brand of negrophilia that dominates global pop culture right now.'. As a response to this musical intervention, I have recently created a web log Negrophilia [the blog] that considers how this love of black culture has persisted into the present day with commentary on popular artists and art forms such as hip hop, dance hall and rastafari (see: www.negrophilia.com.jm)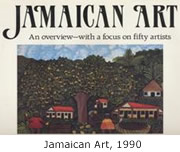 As a Caribbean scholar my work has been equally definitive and interventionist. My first Jamaican publication Jamaican Art: A Survey of Fifty Artists (Kingston Publishers, 1990) remains the only comprehensive art historical survey of Jamaican art to  date.
This lavishly illustrated text documents Jamaica's many art forms from the past century and contextualizes them within discussions about slavery, colonialism, revolutionary struggle and independence in the Caribbean. The book is in its third print run and is the primary text use by schools and colleges teaching about Jamaican art and its history. After, Jamaican Art's publication I continued to make a contribution to local scholarship, through monthly newspaper reviews and a weekly radio program. My main contribution to the arts however was made through my work in various capacities for the National Gallery of Jamaica. As the Research Officer there, I delivered what has come to be viewed as a 'classic' series of  twelve monthly lectures entitled "Masterpieces from the National Collection' later published in the National newspaper  (see attached) that highlighted Jamaica's most famous artists and their important works. I also hosted a contemporary film festival including, local, international and original films. Whether resident in Jamaica or the UK, I remained an integral member of the National Gallery's curatorial team contributing to its annual national exhibitions, writing reviews and participating in public forums; two of  the most important being, my essay contribution to the catalogue Tribute to David Boxerentitled 'On Naming the Primitive' ((1994) and the lecture response to the NGJ's exhibition  Black as Colour that I critically titled 'Black is Colour: Colour is Race' (1998). After my return to the NGJ in the late 1990's and in my capacity as a Director, I regularly chaired events for the NGJ including the opening of  the Caribbean exhibition with Texacoauthor Patrick Chamoiseau and a panel discussion with guest curator of Curator's Eye (2002) Lowery Sims, currently one of Cornell's Professor's at Large.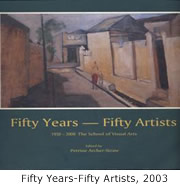 In 2002, I was invited to edit another book on Jamaican art commissioned to celebrate  the School of Visual Art's 50th anniversary. This book Fifty Years-Fifty Artists (Ian Randle Publishers 2003) continued the work of documenting Jamaica's art with essays that focused on fifty of the institution's most prominent artists, many of whom are   significant international names. Again, this book was heavily illustrated and provided two important texts by me that explored the role of the college as a cultural institution in Jamaica's move towards nation building, as well as the establishment of arts and crafts in the island.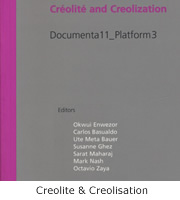 In 2002, I was also invited to take place in the marathon series of dialogs taking place as part of Documenta 11 under the direction of Okwui Enwezor. My platform  entitled Creolite and Creolisation  took place in the Caribbean in St. Lucia  and boasted a handful of select participants from the region including Stewart Hall, Sarat Maharaj, Isaac Julian, Francois Verges and Derek Walcott. I recognise now, that the paper I prepared for that workshop 'Paradise, Primitivism and Parody,' finally made the connection between my work in Europe and my Caribbean writings. Criss-crossing between Europe and the Caribbean, I attempted to show how ideas of the 'primitive' as an aspect of European Modernism influenced Caribbean expressions from the 1930s onwards. I demonstrated how within the visual arts, the  primitive has been pervasive in Caribbean cultural nationalism, in Caribbean black separatism and now, in Caribbean 'new worldism.'  The essay plots the route of that descent and inquires about how European ideas of the primitive might have found a haven under the palm tree of  Caribbean thinking. It recognized the problems implicit in articulating our identities and experiences with the terminology of primitivism and even creolisation, and  cautions replenishing our sense of loss with imagery that plays out and into the fantasies of others.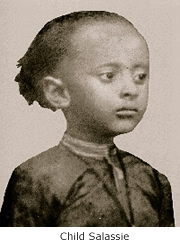 Since Documenta 11, my scholarship has continued in the same vein, trying to make the connection from one culture to another. Most recently at the Tate Modern (Bank Side, London, 2006) for the conference Jungles in Paris exploring the work of Henri Rousseau, I presented a paper titled Exoticism in Black and White that  considered ideas of exoticism in early 20th century photography. It connected modern art practice, especially surrealist photography in Paris, to the political realities and aspirations of black diaspora communities of Harlem, New York, Kingston, Jamaica and Port au Prince, Haiti. Although these communities may seem distinct from one another, through my paper, I tried to show what linked them, working with an approach similar to Paul Gilroy's Black Atlantic (1993) that disrupts the West's  seamless view of modernism with the black presence. By examining how photography facilitated exoticism; its rituals of fancy dress; its heightening of racial and gender differences; its ability to create and capture the subaltern and the transgressive, I showed how the medium's celluloid personas  became  catalysts for political and social change in both black and white communities in the 1920s and 30s. This approach has proven to be very helpful in terms of my latest research for both the black magic and diaspora project that calls for inter-disciplinarity and  interrelatedness.
My focus on European and Caribbean art history, has not been to the exclusion of other cultures and genres. As a scholar of the diaspora, I am motivated by the intellectual conviction that African and African-American and Caribbean, New World cultures share cultural continuities.  Our New World Culture is merely a recreated manifestation of our African experience co-mingled with that of Europe. For this reason, it is impossible to delineate one section of art history from another and most of my research and curatorial projects ranging as far back as Africa: The Art of a Continent up to the forth coming Ethiopia: Monarchy and Modernity symposium, publication and exhibition share this inter-relatedness. This interest is reflected also in the range of critical reviews that I have written over the years, and although my CV provides a complete list of essays contributed to various books and anthologies, it might be useful to highlight one or two of them here.
 The essay entitled, "Alternative Centers: African ad Afro-Caribbean Art," which I co-authored with my Cornell colleague Salah Hassan is included inThe Oxford History of Western Art, as part of a section on "Modernism After: 1914-2000." This major textbook, edited by the prominent art historian Professor Martin Kemp, is the first of its kind to recognize the plurality of Western modernism and the interrelationship of African and Afro-Caribbean modernisms and their inseparability from global art history.  The book clearly seeks to offer a new introduction to the history of Western art, one that provides a more up-to-date treatment than can be found in established works such as Jansen's History of Art, Honor and Fleming's World of History of Art and Gombrich's Story of Art.
In 1997,  I also contributed seven essays to the book St. James Guide to Black Artists Edition 1. (St James Guide to Black Artists) published by Schomburg Center for Research in Black Culture and edited by Thomas Riggs. This book described as 'Unique not only in its depth of coverage but its inclusion of a number of artists from Africa, the Caribbean, Brazil and other countries that have not had good coverage.' is a biographical source recommended for  all larger academic and public libraries with specialized collections as well as  smaller academic, public, and school libraries.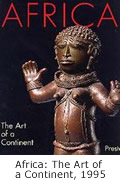 My work as co-ordinating editor for the Royal Academy Africa the Art of a Continent catalogue, resulted in my extensive engagement with scholars and materials from the whole continent of Africa as well as an involvement with the parallel exhibition Seven Stories of African Art at the Whitechapel which I subsequently reviewed. In that same season, Susan Vogel's African Art Now exhibition was exhibited at Tate Liverpool and  I subsequently reviewed it for the BBC's Meridian Arts.

Following the publication of my book Negrophilia and in the wake of Chris Ofili's controversial exhibition in London and New York, I was invited by Arts Review to  critique his work. The resulting article "Mirror, Mirror, Negrophilia, Parody and Chris Ophili",was  controversial and openly challenged Chris Offili with the charge of minstrelsy. It was not appreciated by the artist, but defended by the journal, even in an era of extreme political correctness.
Finally, in a major survey of British art British Art Now (1998),I was invited to interview Dr Eddie Chambers the Black-British Curator and author of numerous articles and books including Run through the Jungle (INIVA, 1999). Eddie Chambers is an artist and better known as one of Britain's most radical critics and curators. He writes regularly for Art Monthly. His texts represent an uncompromising voice in the art establishment of the country. In this rare interview we discussed his creation of landmark exhibitions such as Black Art: Plotting the Course, 1988; History and Identity: Seven Painters, 1991; Black People and the British Flag, 1993 and most recently, Mildred Howard: In the Line of Fire, 1999 as well as the contribution of Black British art to contemporary British culture. Eddie Chambers will be visiting Cornell as a guest lecturer in 2007.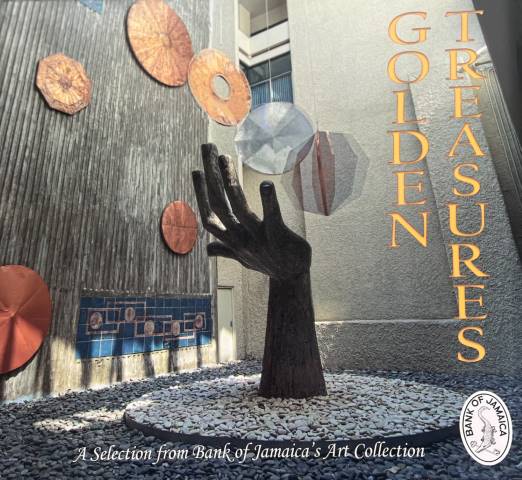 The Bank of Jamaica recently published Golden Treasures, a selection of art from its huge collection. In its introductory essay, the later art historian and curator Petrine Archer wrote: "By considering its selection of artists, styles and media in the broader picture of Jamaican art, it is possible to see how the Bank has partnered to help build the visual arts by supporting its diversity and innovation."