Please note, full articles are available as PDF downloads by clicking on the "more" link after each articles's introduction.
Black Intentions, Art Review, 2000
In 1920's Paris, negrophilia was all the rage, with black performers forced to play up to stereotypes created by white audiences. Today, Petrine Archer-Straw asks, is Chris Ofili doing the same thing?
The black-faced minstrel is a well established, though somewhat dubious, character in the history of Western popular theatre. In 19th century America, even before black people began performing for white audiences, whites blackened their own faces to provide entertainment in circuses and theatres. The black-faced banjo playing minstrel allowed whites to laugh at their negative characteristics under the guise of blackness. Later, black people's mimicry of these acts in vaudeville and European music halls, continued their roles as jesters and entertainers. In 1920s Paris, Josephine Baker's performances; with her facial contorsions and goofing around; seemed iconic of black culture and allowed whites to laugh at human frailty without having to compromise their identity. Baker's performances triggered what can be called negrophilia: a craze among artists and bohemian types. It became a sign of being modern to collect African art, listen to jazz and dance with black people. more»
A Double Edged Infatuation, The Guardian, Saturday September 23, 2000.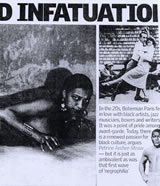 For almost 20 years, I have considered myself a student of "negrophilia". This means that I spend much of my time scrutinising how white and black people relate to each other, trying especially to understand their attraction to each other.
My scrutiny can be quite personal, focusing on how I, as a black woman, interact with others around me, particularly when I am working in England; but my exploration is also often stimulated by my time in Jamaica, where the legacy of colonialism has ensured that race relations are a constant touchstone of Caribbean existence. Sometimes, my interests are voyeuristic, and I find myself spying on mixed-race couples and wondering how they perceive each other; at other times, I have a more critical attitude, trying to grasp why, and how, European history has often, implicitly or explicitly, tended to denigrate the image and psyche of black people. more»
Black is Colour: Colour is Race, The Jamaican Historical Review, 1998
In the exhibition "Black as Colour" Dr David Boxer [Curator of the National Gallery of Jamaica] aptly shows the importance of black in the Jamaican artist's palette. His iconographic perspective brings to the National Gallery and exhibition of enormous scope. This article lends to his vision a social context for the artistic use of black. With an art historical view, I hope to unify many of his ideas under the single theme of race. more»
Conversations with Eugene Palmer, Norwich Art Gallery, 1994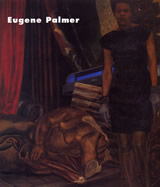 I met with Eugene Palmer in his Studio on a disgustingly wet rainy afternoon. One of those occasions when you curse yourself for living in Britain and simultaneously take pride in your own sense of fortitude. Feeling damp, but none-the-less determined, we settled down to discuss his life and his painting, in that order. As children of the same immigrant 'fall-out', it seemed important to first explore the inevitable commonality within our childhood experiences and to establish links with his present day painting via the past. more»
Desperately seeking Africa within Jamaican Art, Jamaica Journal, 2003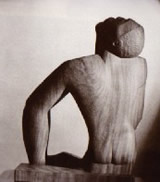 I am always intrigued by the peculiar qualities of Jamaican art. I wonder why as islanders, our artists do not romanticize the sea, or why they burden images of the past with sombre tones? Why are landscapes, trees and tangled roots important motifs in our art and why is our African heritage and blackness such in important feature of our portraiture. Using a range of images from the self-taught sculptor David Miller to the sophisticated photographer Albert Chong, I want to explore how perceptions of Africa have influenced Jamaican art, and the way in which our visual representations of diaspora identity are shaped by imagery not just from Africa but also Europe. I want to show that Jamaican art's iconography is truly distinctive; a reflection of our complex cultural perceptions. more»
Eddie Chambers: Interview with Petrine Archer-Straw, Annotations 5: Run through the Jungle: Selected Writings by Eddie Chambers. Edited by Gilane Tawadros and Victoria Clarke. London: Institute of International Visual Arts, 1999, pp. 21- 31.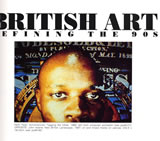 [Petrine Archer-Straw] - That brings us to what you might perceive as being the failings of the British mainstream institutions in providing for Black artist. How do you view the situation, in terms of funding and in terms of exhibition space, and so on?
[Eddie Chambers] – I don't want to take a negative, pessimistic road, but I think that at the moment things are absolutely dreadful. (Laughter) I think, in the early 1980s, the establishment's view was 'We've just had these "riots", these violent expressions of Black disaffection and exclusion, throughout the country. So our institutions had better be seen to be doing something or other to acknowledge these people', and that translates, in its own trickle-down way, into a pressure on public institutions, to have some kind of accountability, or to 'acknowledge' in some way people in the 'Black community' and, in this case, artists in the Black community. I think what's happened, is that the art world is now saying, 'We'll "acknowledge" them by patronising and interacting with a few of their artists'. The problem is that I don't think that the process of patronising half a dozen artists is adequate, because it means that there are several hundred artists in any one area of the country who are concurrently left to wither. I think it's an important point that racism in the art world, in terms of denying exhibition spaces to Black artists, is a real problem, because I think art practice improves or develops through artists being able to exhibit their work regularly. more»
Seya Parboosingh: Painting a love story, Caribbean Beat, 2004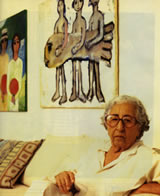 Seya Parboosingh is painting a love story. It's a sage that began in the 1990s when she first met her husband, the Jamaican avant-garde painter Karl Parboosingh, and it became an exploration of their relationship. Ask her about her work and life, and inevitably she tells you about Karl, whom she simply calls Parboosingh. Their lives are inextricably entwined, even though he died more than 25 years ago. Since then, Seya's story has taken on epic proportions, reflecting her deepening understanding of how love transformed their lives and the lives of others. What started as a tale of two people now reflects her love for her husband, Jamaica and humanity more»
Paradise, Primitivism, and Parody, Documenta, 2002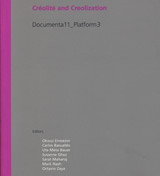 When I received the invitation to this workshop, I wrote back to Documenta asking which Petrine Archer-Straw they wished to attend, the London-based academic concerned with primitivism, or the Jamaican curator of exhibitions. Like so many Caribbeans, my professional life is fragmented. I needed to consider what side of my "double consciousness" to present. But, despite my concerns for chasms and compartmentalization, fortunately my work was known on both sides of the Atlantic. This recognition of old and new world scholarship sparked a memory of my first postgraduate year in London. Back then, I could not understand why, as a newcomer to art history, modern art and its primitivism were so familiar. I questioned the ease with which my Caribbean background afforded me an understanding of primitivism, and the extent to which I could read into and play into its fiction. more»
Photos and Phantasms, Royal Geographical Society & the British Council, 1998
Photos and Phantasms is an exhibition of photographs reproduced from Harry Johnston's archive held at the Royal Geographical Society in London. In 1908 Harry Johnston, a British geographer, was asked by U.S. President Theodore Roosevelt to research the condition of Negroes in the Americas. Johnston's visit to the region resulted in a book titled Negro in the New World, published in 1911. Almost 90 years after Johnston toured the Caribbean with his companion Arthur Greaves, his photographs are being exhibited in those islands where they were taken. more»
Why not Africa?: Ideas about Black Culture between Norman Douglas and Friends?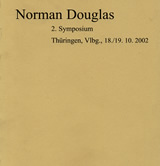 A version of this paper was first given at the conference Rhapsodies in Black: Art of the Harlem Renaissance in 1997. At that time I talked about Nancy Cunard, editor, close friend and biographer of Norman Douglas. I explored here zeal for black culture and her research for the book called Negro. My interest in the Caribbean stopped me examining fully why Cunard never travelled to in Africa, despite her passion for that continent. So today, I ask,"Why Not Africa, Nancy?" because it is a concern that Cunard also raises in her Douglas biography Grand Man. Her failure to get Norman Douglas to journey with her, she considered "a mystery to this day". more»